I've been doing research on ritual killings in African countries for many years. Yet, it still happens that I am surprised even flabbergasted by the new information I still find. One such experiences happened when reading the article presented below.
Reportedly, the Sefwi Bekwai area in Ghana is notorious for its ritual murders. The traditional leaders who recently spoke out against the rise in murders in their region notably the increase in ritual murders are to be commended for their public outcry. They referred to more than one ritual murder case in the past, one of these cases being the ritual murder of Kofi Kyinto by his uncle, Benjamin Affi, in the 1980s. The small boy was murdered by contract kiilers who had been instructed by Nana Akwasi Agyei of Akaasu.
I will soon provide more details about this notorious ritual murder case as well as others in the region.
(webmaster FVDK)
Published: August 9, 2022
By: Solomon Ofori – Myjoyonline – Ghana
Chiefs at Sefwi Bekwai have condemned a recent rise in murder cases in the entire traditional area.
According to Nananom, the recent murder cases have brought shame to the people and rekindled the unfortunate and undesirable stigma of a 'Ritual Murder' community.
The chiefs' worry comes on the heels of some recent incidents including the killing of a 27-year-old woman, Martha Tetteh, a Linguist who was shot dead at Sefwi Proso among other bizarre killings.
The Sefwi area unfortunately had infamously gained notoriety in the 1980s for consistently recording mysterious deaths led by the popular Kofi Kyinto ritual murder.
Krontihene and Acting President of Sefwi Bekwai Traditional Council, Chief of Sefwi Humjibre, Nana Kwadwo Twum II, in a statement said the traditional leaders do not want such tags to continue.
Below is the full statement:
Below is the full statement: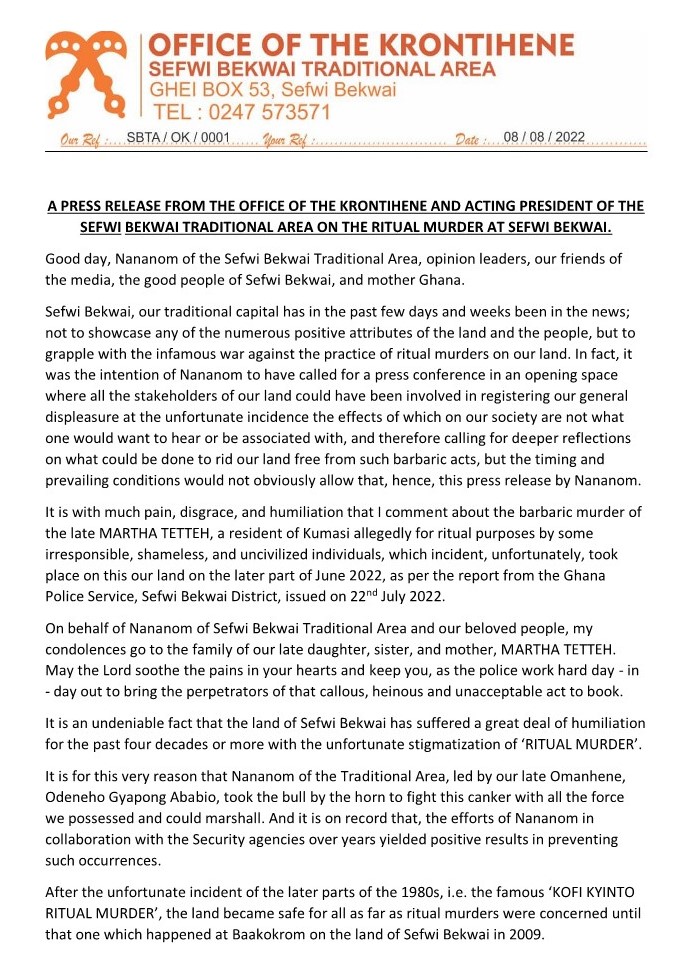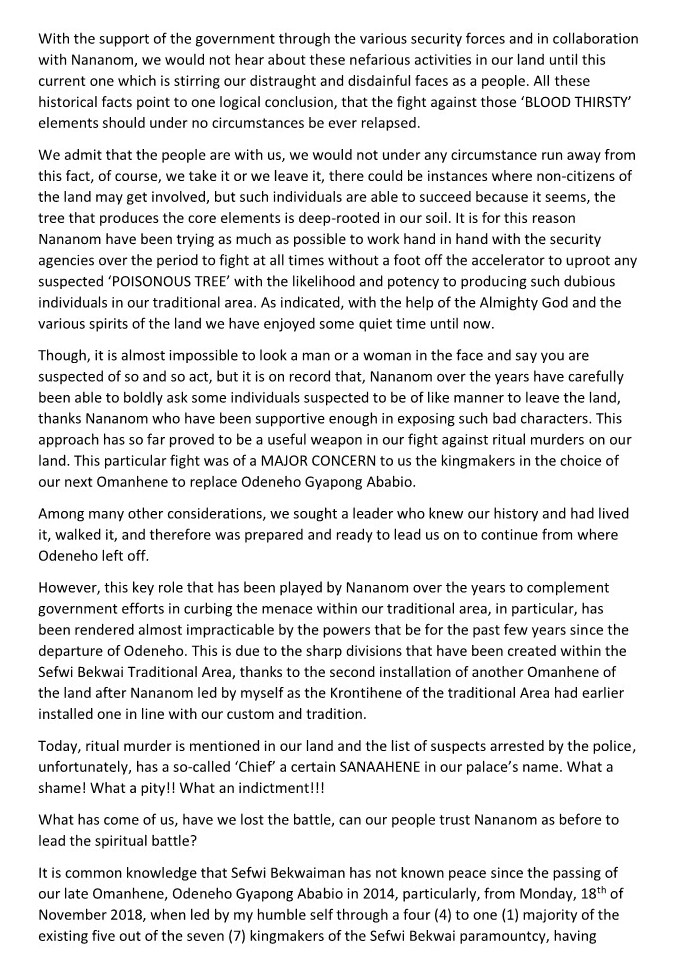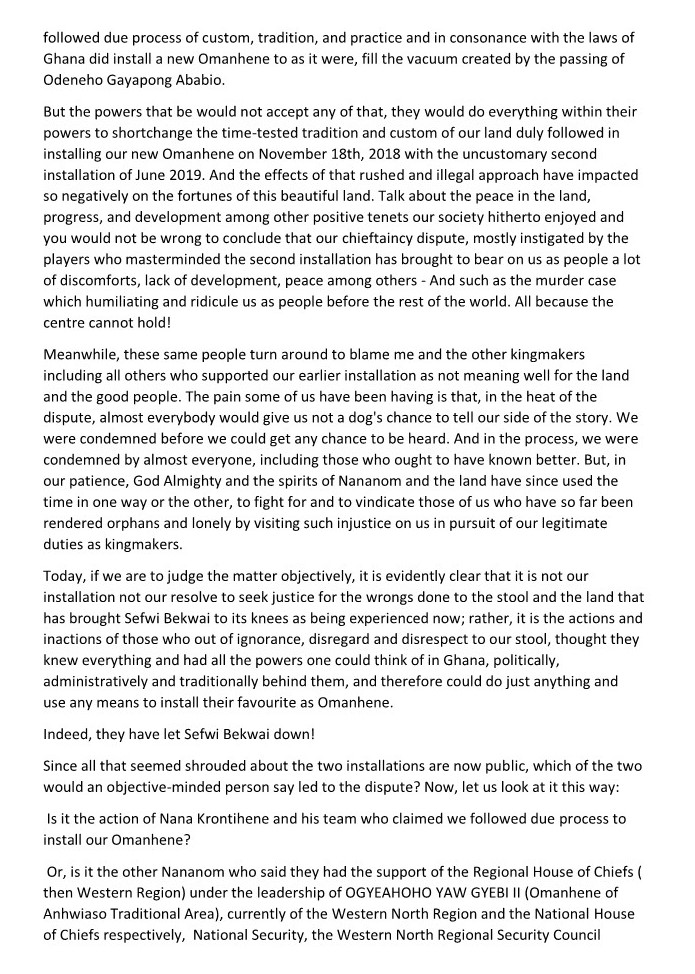 (RESEC ) under the leadership of then Honourable Kingsley Aboagye Gyedu as Regional Minister and Member of Parliament for our constituency, Bibiani Anhwiaso Bekwai and the Municipal Security Council (MUSEC) under the authority of Honourable Alfred Amoah (late) immediate past Municipal Chief Executive, and therefore they could make a BENKUMHENE in an Akan society such as ours install no mean a chief than OMANHENE, and still, we have people supporting this? We found nothing wrong with that abominable act, we sang their praises to the high places, and they did that with sheer bravado, we were told. Have we bothered to find out how they could formulate a litany of charges against me as the Acting president and without giving me any opportunity to defend myself, they came out with a captioned, 'VOTE OF NO CONFIDENCE', which was subsequently endorsed by all the bodies mentioned above as supporting them? They even said, by that, they had removed me from office as KRONTIHENE of the traditional area, these were not child's play. All of these have gone on and one expects our just God and the spirits of the land to be happy? Only time and real-time will tell.
"The further a society drifts from the truth; the more it will hate those that speak it" George Orwell would put it. Of course, if people get blinded and are influenced by their personal interests as against a group interest, they end up seeing things the way they would otherwise want them to be, and not as they are supposed to be, the case of the chieftaincy dispute at Sefwi Bekwai. However, no one bribes nature not to let them face the repercussions of their wrongful acts.
One may look at it this way, assuming the installation on 18th November 2018, was faulty as they claimed, the best option available to Nananom if they cared for the peace and good of our land and people, was to have challenged it at the appropriate forum; and it was never the calling for National Security to come and impose a certain individual on us as Omanhene, I stand to be corrected, they might have stood on one of our numerous laws to do that untoward act, and since I'm not a lawyer, I may not know.
Worst of all, in order to get a majority of four (4) out of the seven (7) kingmakers as our custom requires, the Regional House of Chiefs without listening to our side would authorize Benkumhene to install both Adontenhene (though I had already done that in my capacity as Krontihene) and Akwamuhene within a month and would go behind the existing Kyidomhene to appoint a brother of his who is maimed in the hand (having some fingers chopped off) and therefore, not qualified to come to the palace in the first place as per custom, let alone stand in as Kyidomhene. To all those who care for the truth, this is how far those Nananom and their supporters who claim to love Sefwi Bekwai more than anybody else, could throw our Omanhene stool to the lowest ebb ever and to the swine in their unflinching burning desire and uncustomary quest to also install someone as Omanhene. If you could wickedly do this unacceptable thing to your stool, could the people trust you for anything good, should what we are hearing and experiencing be strange? Could the Almighty God and the Spirits be blamed?
Is it not strange if after all of these, they turn round to point accusing fingers at some of us, albeit, we do not love Sefwi Bekwai?
Today, the truth is gradually getting out of the bag, and in due course, all would know who loves Sefwi Bekwai the more!
When we came out to challenge their illegal and abortive installation, almost the individuals who were madly involved in that sacrilegious installation including bodies we suspected to have had their hand tainted in the matter, came out with the speed of thunder to deny their involvement, rather vehemently. Thank God, that the truth could not be covered forever. In recent circulating audio, an individual who claims to be a member of Nana Ahene Mmra's (late) family indicates and confirms our position that the Regional House of Chiefs ordered MUSEC, to collaborate with the other side to select a candidate of their choice and get him installed with the backing of the RESEC and National Security – A Regional House mandating MUSEC to select a candidate as Omanhene. And people who claim to know everything are proud to be assigned with such installation? Only at SEFWI BEKWAI!
The names of the individuals and bodies and roles they played are loud and clear in the said audio. Yet they had denied only to be exposed in the audio. They treat us this bad way and would want to take and swallow that bitterness down our throats?
Another alarming side to this whole episode is the mention of a pastor and the instrumental role he played in getting the assistance of the National Security on board the illegal installation. If it was true, then, we are not safe! Dangerous precedence it is.
If pastors who claim they have been called by God to do His work could not see the need to meet with us and know our side of the story for peace's sake, would work their way to get the authorities so easily swayed to let National Security do what they did, then, of course, we are not safe! As Christians, we are told in the Good book, the Holy Bible to make peace with all, especially, pastors, yet a pastor worth his sort could get the rules bent in his favour in support of a relative or a dear one, thinking less of the dire consequences that could lead to, then, where was that God who's voice directs him? Did he hear the voice of God to do that? l hardly could find words enough to describe that.
We may not have to complain about getting a raw deal from the state apparatus. One may be quick to say that, the authorities only acted on the sieved information they received from the very sources whose information is what they are to act on but what was true was the fact that those sources had an interest in the matter, and therefore they could be said (authorities) to have been tricked or misinformed. The question however is, should we always listen to a side on a disputed matter like ours?
What about the numerous petitions we wrote in respect of the earlier installation to various places of authority?
What came of the secular from the Chieftaincy Ministry to let a three-member Committee look into our case before it and; that the second installation should not be allowed by both RESEC AND MUSEC? – With the orders being flouted with impunity and disdain by the two bodies because there had been some compromises up the hill? Honorable SAMUEL KOFI AHIAVE DZAMESI, former Minister for Chieftaincy and Cultural Affairs, may the Lord bless you wherever you are.
And what about we appearing before the National Security Minister, Honourable Albert Kan Dapaah, to tell him our side of the story some two or three days to the second installation, only for him to tell us in the face that the ORDERS had already been given and his office could do nothing about it. His only advice was, "Nananom, Onyame na osi ohene, se eye mo dea a, mo nsa beka", to wit if God says it is our candidate who is to be on the stool, their subsequent installation could not stop that.
In the face of these abuses, provocations, and injustices, we have never resorted to any foul means to get justice, as the system keeps delaying us justice by not getting the Judicial Committee of the Western North Regional House of Chiefs ready to consider our cases filed before it against the second installation since July 2019 (the four kingmakers and the principal elders of Ekona Royal Family of Sukusuku).
One may be hated for speaking the truth, as Plato would say. It is the hard truth as this which needs to be told at all times. The Bible tells us in John 8: 32, that we will know the truth and the truth will set us free.
How beautiful it would be if together we protect our cultural heritage given to us by Nananom. Sefwi Bekwai has a unique culture and tradition to which our energies ought to be channeled to their development and promotion rather than allowing others who might not be well able to appreciate our culture, do as they presume, with all due respect.
Nananom, is it not our duty to ensure that the tenets of our culture are well organized so that we do not lose touch with it as trustees as we hand them over to the youth and generations yet unborn in due course and in their pure and natural states, not as adulterated as would undermine our integrity as traditional leaders as has been so done with the so-called second installation.
Was it not beautiful when in the process of the second installation, our Queen-mother, Nana Abena Aninwaah II sent drinks to me through a delegation, inviting me as Krontihene to undertake the said installation as our tradition provides?
I gave them a simple response that since I had already installed the Omanhene with the help of the other kingmakers, the second one could not be possible. But they would not accept nor respect that, because they had the support of National Security. They, therefore, went ahead to do the unimaginable, the effect of it we are facing today. This gives credence to the age-long saying that "You cannot eat your cake and have it". If we decide to throw our tradition and culture to the dogs, we cannot turn around to get the support of the spirits for anything good. Nana Kwame Ampadu I of blessed memory would sum it up in one of his songs: "Ammanere yentoto n'ase, na yeso mu yie". If we believe that our forebears gave what we have to us through various generations what they received from the creator, then of course we cannot disregard what God and the spirits have put down and has been sustained over the years by others for our good and that of those who come after us; and still expect their blessings and guidance in times such as these.
" Nea ese se yede to no, se yeamfa anto ho a, efiri to" It is time we got all the wrongs righted.
Again, irrespective of our current differences, we could still work in diverse ways in collaboration with the security agencies in ensuring that all those who played various roles in the ritual murder are made to face the full rigours of the law in a manner that will deter any such distasteful, preposterous and inhuman acts in the future. This is not beyond us.
It is also my humble prayer to the good people of Sefwi Bekwai to support authorities in this fight to get to the bottom of the matter by giving out any information whatsoever we may have in respect of the case to ensure that a lasting solution is found so that our security could be guaranteed. It may also go a long way in restoring our dented image as a people.
Finally, I will seize the opportunity to make a passionate appeal to His Excellency the President, Nana Addo Danquah Akufo – Addo to use his good offices to ensure that the chieftaincy dispute at Sefwi Bekwai is resolved by directing the appropriate bodies to get lawyers to the newly created Regional Houses of Chiefs, such as the Western North Region.
In 2017, the President gave assurance to Ghanaians that his government would not meddle in issues bothering chieftaincy. The President said this when the Bawku Baana Asigri Abugrago Azarka II and his chiefs called on him at the Jubilee House.
Again, somewhere in April this year, the President was on record to have expressed his unhappiness on the numerous chieftaincy disputes across the country. This he said exacts a heavy toll on the public purse and therefore must be avoided where necessary.
The President, His Excellency Nana Addo Danquah Akufo – Addo is noted for finding lasting solutions to protracted chieftaincy disputes – Yendi where he was conferred with the title, " Naa Abudani I" and Ga states come to mind.
If those were possible, the case of Sefwi Bekwai is also possible, most especially, having promised the people of creating a District in honor of our late Omanhene, Odeneho Gyapong Ababio at his funeral at the Sefwi Bekwai Palace, back in 2016.
It is the humble prayer of Nananom that the President would not leave office without fulfilling that promise and also ensuring justice or reconciliation as far as our chieftaincy dispute is concerned. Counting on you, Mr. President.
Signed
Nana Kwadwo Twum II,
Krontihene and Acting President, Sefwi Bekwai Traditional Council; Chief of Sefwi HumjibreTel: 024- 7573571
Source: Traditional leaders condemn rise in murder cases in Sefwi Bekwai area